A selection of best jewellery for you
A selection of the best watches for you
NEW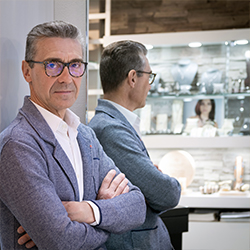 For more than 40 years a lover of Jewelry, be it women's jewelry or a fine watch, owner of a well-known and esteemed store in Noventa Vicentina (VI), Fabio Ferro possesses a wealth of experience and "Know-How" of all respect.
The approach to the world of 'e-commerce began 15 years ago, to make available to the online customer the seriousness, professionalism and passion that Fabio Ferro demonstrates every day in his store.
Despite the fact that the efficiency of an e-commerce site cannot disregard capable mechanisms such as sophisticated computer systems, punctilious work of positioning, Ceo and ad hoc advertising campaigns, the imprint wanted by Fabio Ferro and his staff from the beginning was to approach the end customer in the most personal way possible.
The attention paid to any request is always extreme, the relationship established is often nurtured by phone calls, emails or messages to best optimize the choice and the final purchase. This has allowed us to form over the years a large group of buyers who often return to choose our site to celebrate, through our products, family celebrations and important occasions.
This is a source of pride for us, a sign that we have done a good job, despite the distances that e-commerce naturally imposes.
A wide choice of products
At Fabio Ferro the Jewelry you can find the right gift for every occasion.
Jewelry is the master of the house: women's and men's, classic or fashion, it offers the customer a wide choice to encompass any request, whether it be an important gift or the classic "little thought."
The flagship of the online sale at www.fabioferro.eu, however, remains the Made in Italy Handcrafted Jewelry, personally designed and crafted by Fabio Ferro in his goldsmith's workshop to satisfy the most original and special requests of any kind.
This is how the most eclusive and unique jewelry is born, taken care of in customization with maniacal precision in finishing and the ever-present certified quality!
Wedding Rings fall into this category and are indeed "Special" with a new design to mark a special day.
The watch is the other great protagonist of the assortment in the store: Swiss or Japanese, classic or fashion, it pleases all price ranges of the market.
The Gift Item category is also vast, including Giovanni Raspini's Silverware, photo frames and designer gifts, and Lampe Berger, the undisputed world leader in elegant room fragrances.
The brands in store and online are the result of a careful selection of the best jewelry companies in Italy and around the world, such as Fope, pride of Made in Italy, eternal handmade jewelry for women and men.
Our gold jewelry is handcrafted in our workshop by Italian master goldsmiths, the stones are personally selected by Fabio even before being set on uniquely designed jewelry, representing the originality of fresh and young lines signed "Fabio Ferro i Gioielli."
Watches are a cornerstone of Fabio Ferro's experience.
Dealer of the most renowned Swiss brands such as Longines and Hamilton, Japanese brands such as Seiko, he manages to guarantee a wide range of products even in the most exclusive editions and precious series "Limited Edition".
The jewelry overview includes fashion jewelry with brands that are a tribute to the young spirit, always ready to make you experience all new emotions.
Fashion jewelry created in silver and only Made in Italy, such as Giovanni Raspini, Valentina Ferragni Studio, Madì, Amen, Rue des Mille, products of extreme quality, carefree, casual, for those who are young inside and out!